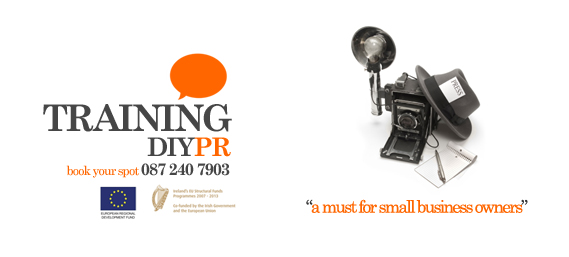 Upcoming 1 day workshop:
10.00am to 3.oopm – Galway location
COMING SOON – contact us for upcoming dates 
The DIY PR workshop is presented by PR consultant Máirín O'Reilly, Director at Mór Public Relations & MOREBiz Ltd. This course was initially presented in Spring 2011 in association with the Galway City and County Enterprise Board and has been of huge benefit to many small business owners in showing them how to promote their business and increase their brand profile.
Máirín has presented training and mentoring to clients of :
Bórd Iascaigh Mhara; Galway County Council; Galway Local Enterprise Office; Galway Executive Skillnets ; South West Mayo Development Co., Burren Ecotourism Network; Leitrim Development Company; Galway Rural Development Co.;
This one day course will give you the know-how to proactively approach PR, gaining free publicity without having a PR budget. You will learn how effective PR extends the reach of your message to thousands of potential customers, creates awareness of your products or services, adds to brand value, reputation and credibility, helping to grow your business.
This course is tailored to the needs of owner-managed and start-up businesses.
Interactive, stimulating Workshop:
PR basics and practical tips
Structure and write a press release
Approach the media and develop a media database
Creative news ideas to attract media attention
Photos and photocaptions
PR in the overall Marketing, Social Media and Communications Mix
Creating an outline PR plan
Feedback from Participants on previous workshops:
This workshop has a proven track record of success – view testimonials on http://www.linkedin.com/profile/view?id=41275676&trk=tab_pro&_mSplash=1
Ideal format –covered a lot of topics in short period of time
Very informative, motivational and plenty of good tips
Well worth attending
Great for networking, moral support and picking up ideas
Great ideas on how to better market and create a buzz for my company
Good practical examples and case studies that get the ideas flowing
I will never read a newspaper the same way again – now understand the role of PR
Presenter displays huge passion and energy and engaging
Experienced presenter from the PR industry
'Máirín was fab!'
100% of participants rated the presenter and the workshop as Excellent and said they would recommend the workshop to other people
Book here:  places limited : 087 2407903 or moreilly@morpr.com
.