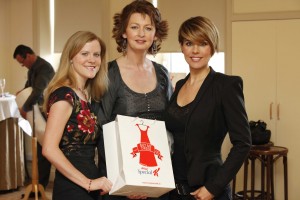 MóR Public Relations was established by Máirín O'Reilly in 2003. O'Reilly is the dynamic force with a strong track record in public relations and the business acumen to lead your business into the public eye, creating awareness of your products and services and increasing public knowledge of your personal brand.
Máirín is a graduate of University College Galway – NUIG with a B.A. in Irish and French and Higher Diploma in Education. She studied with the Public Relations Institute of Ireland and graduated with an honours Diploma in Public Relations.
A born communicator and linguist Máirín is a fluent french and Irish speaker as well as having studied German and Italian. Her creative side is apparent in her work and comes out through photography and her eye for detail and perfection.
A keen business woman, she has honed her skills through her involvement with Junior Chamber International (JCI) – where she has represented Ireland at JCI International conferences. Mór Public Relations support entrepreneurship through sponsorship of JCI Galway's Young Entrepreneur of the Year Awards.
She initially joined a Dublin based, high profile, Irish organisation in 1998 where she played a key role in award winning PR campaigns.
Achievements
O'Reilly has a particular loyalty to Galway and endeavours to promote it through her involvement in business organisations, professional bodies as well as her voluntary activities in the community.
Member Public Relations Institute of Ireland.
Member of Junior Chamber International Galway.
Member of Galway Business Club.
2005 Multiple awards for PR activities and the title of 'Best JCI Branch in the World'.
2005 President of Junior Chamber International Galway.
2005 Awarded 'Most Outstanding Branch President in the World'.
2004 National PRO – Junior Chamber International Ireland.
2000 Public Relations Consultancy Association (PRCA) National Award.